Life St Dominic's Hospital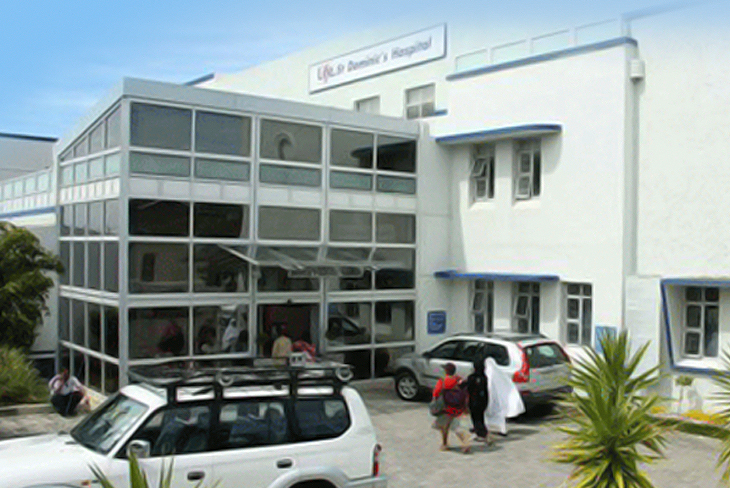 Overview
Centrally located in Southernwood, East London, Life St Dominic's Hospital is a first-class 211-bed facility. Whether for routine, more serious or extensive procedures, the teams at Life St Dominic's Hospital are focused on the delivery of high-quality treatment and special, unique standards of care. There is a dedicated focus on heart health, and our cardiac centre offers up-to-date and comprehensive cardiology and cardio-thoracic services in beautiful, up-market facilities. The highly experienced, multi-disciplinary team of healthcare professionals and state-of-the-art technology will continue to ensure that we provide the best possible specialist cardiac service to the Border-Kei region. The priority here is to focus on the delivery of a special brand of health and care that will improve and impact the lives of our patients and visitors.
Life St Dominic's Hospital has four intensive care units catering for both medical and surgical patients.  Surgical interventions include orthopaedic and general surgery.
Our 24-hour accident and emergency unit is newly built and equipped to handle emergencies of any kind, ranging from polytrauma to minor ailments which are treated in the new primary care clinic.
Telephone

Email
Physical address

45 St. Marks Road, Southernwood, East London, 5201

GPS

-32.992226 : 27.902611
Hospital Manager

Musa Madonsela
Visiting Hours
Our visiting times are subject to change. For information on visiting times, please contact the hospital directly.
Medical services
Cardiac surgery
Dermatology
General surgery
Internal medicine
Oncology
Orthopaedic surgery
Pathology
Radioisotope laboratory
Radiology
Thoracic surgery
Ancillary services
Doctors
Anaesthetist(s)

Dr Adrian Toma

043 743 8358

Dr Colin Boting

043 743 8358

Dr Jan Barnard

043 701 8300

Dr Johan Ellis

043 743 8358

Dr Jon Liesching

082 567 0086

Dr Jan Swanepoel

043 701 8300

Dr Andre Evans

043 701 8300

Dr Jonothan  Dowie

043 701 8300

Dr Loyiso Mfeya

043 701 8300

Dr Noel Hartwig

043 743 8358

Dr Roelof Steyn

043 701 8300

Dr Retief Strauss

043 701 8300

Dr Vince Wheeler

043 742 4126

Dr Eleni Garoufalias

043 701 8300

Dr Suné Thompson

043 701 8300

Dr Clive Wesson

043 701 8300

Cardio-thoracic surgeon

Dr Johan Dreyer

043 743 4075

Cardiologist(s)

Dr David Kettles

043 743 2345

Dr Goran Ignjatovic

043 743 2282

Dr Wayne Lubbe

043 722 5992

Clinical Haematologist

Dr Mike Webb

043 422 0110

Surgical Gastroenterologist

Dr Vimal Nair

082 858 2281

Specialist Surgeons(s)

Dr Langa Nqwena

043 743 4567

Dr Mbulelo Renene

043 743 7872

Dr Neil Comley

043 743 4567

Dr Sheridan Santhia

043 743 4567

Dr Monde Mjoli (Gastroenterologist,  Colorectal Surgeon, general surgeon and specialist surgeon)

043 743 7872

Dr Juan Gouws

043 743 4567

Dr Pierre Mouton

043 743 4567

Nephrologists(s)

Dr Kubern Govender

043 743 1686

Siviwe

043 743 1686

Dr Khaya Shweni

043 743 1686

Clinical Radiation Oncologist

Dr Zukiswa Jafta

066 545 5462

Oncologist(s)

Dr Charleen Muller

043 722 1222

Dr Jonathan Naude

043 722 1222

Orthopaedic surgeon(s)

Dr Cornie Herbst

043 722 1637

Dr Frans Fourie

043 722 4700

Dr Niekie Jansen van Rensburg

043 722 1037

Dr Pierre Louw

043 743 2805

Dr Pedro Sanchez

043 722 0555

Dr Willem Viviers

043 722 1755

Physician(s)

Dr Alan Koopowitz

043 743 7582

Dr Lulamile Jamjam

043 742 0090

Dr Mike Webb

043 743 7582

Dr Lungile Mbalekwa

043 742 0090

Dr Raymond Mahlunge

043 743 5202

Dr Tersia Van Heerden

043 422 0444

Dr Siyabonga Mbijekana

043 743 7872

Dr Nthuthu Lufundo

043 722 1380

Dr Zoleka Mafuya

043 722 3311

Dr Fezekile Mgwedli

043 722 1320
Contact us
Hospital Manager

Musa Madonsela

Physical address

45 St. Marks Road
Southernwood
East London
5201

Postal address

P O Box 11187
Southernwood
5213

Telephone

043 707 9000

Fax

043 722 3250

Email

Map