Life East London Private Hospital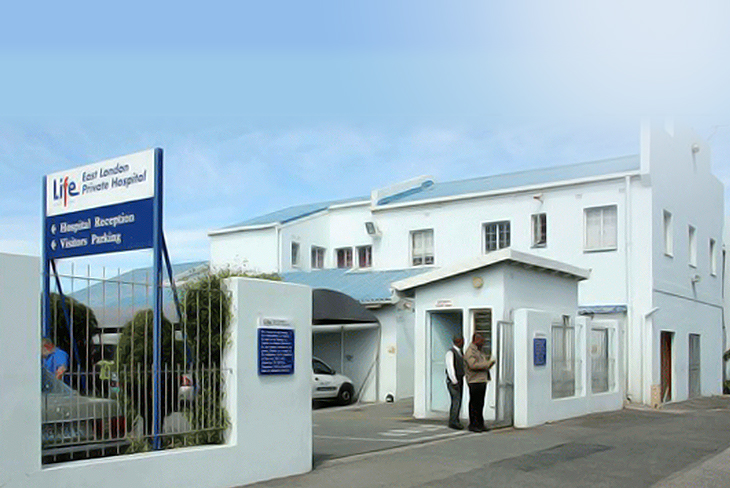 Overview
South Africa's only river port of East London, is home to this first-class facility that is focused on internal medicine and the diagnosis and treatment of common adult diseases, such as kidney disease, cancer and diabetes. There are 11 specialist physicians in attendance at this 100-bed hospital, which also has a 16-bed renal dialysis unit and a radiology facility with a comprehensive range of modern and sophisticated diagnostic equipment. This facility offers patients unrivalled care with an emphasis on quality and clinical excellence – whether for routine, more serious, or extensive, long-term treatments. The employees at Life East London Private Hospital actively participate in community initiatives, and through their ongoing quality training, deliver excellent healthcare and embrace the principles of empathy, ethics, excellence and empowerment.
Telephone

Email
Physical Address

32 Albany Street, North End, East London, 5201

GPS

-33.007608 : 27.901318
Hospital manager

Sentle Moroeroe
Visiting Hours
Our visiting times are subject to change. For information on visiting times, please contact the hospital directly.
Medical services
Ancillary services
Dietetics
Pharmacy
Physiotherapy
Doctors
The doctors listed below are private practitioners. Please enquire about their rates directly with the practice.
Physician(s)

Dr Alan Koopowitz

043 743 7582

Dr Fezekile Mgwedli

043 722 1320

Dr Lulamile Jamjam

043 742 0090

Dr Lungile Mbalekwa

043 742 0090

Dr Ntuthu Lufundo

043 722 1380

Dr Timothy Brain

043 743 7582

Dr Tersia van Heerden

043 422 0444

Dr Siyabonga Mbijekana

043 743 7872

Dr Zoleka Mafuya

043 722 3311

Clinical Radiation Oncologist

Dr Zukiswa Jafta

066 545 5462

Clinical Haematologist

Dr Michael Webb

043 422 0110

Nephrologists(s)

Dr Kubern Govender

043 743 1686

Dr Siviwe Ndamase

043 743 1686

Dr John Shweni

043 743 1686
Contact us
Hospital manager

Sentle Moroeroe

Physical address

32 Albany Street

North End
East London
5201

Postal address

P O Box 1585
East London
5200

Telephone

043 702 3800

Fax

043 722 5310

Email

Map