Life Poortview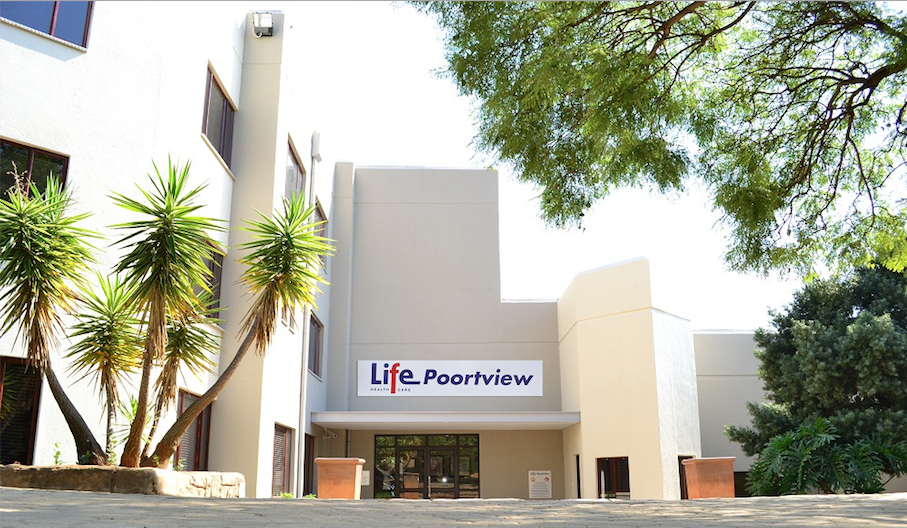 Overview
The 80-bed Life Poortview Hospital in Ruimsig Roodepoort is a dedicated mental health facility specialising in the treatment of psychiatric disorders, treating patients with dual diagnosis including substance dependence or other addictions that are associated with these disorders. Treatment programmes, facilitated by a first-class multidisciplinary team, have been developed to achieve optimal outcomes through the short-term treatment of mental healthcare users in a tranquil and therapeutic environment conducive to recovery. By delivering clinical excellence in this  world-class facility, as well as through a dedication to well-being and quality of life, this facility aims to make a difference in the lives of those they care for and treat. In addition, the hospital employees at all levels actively participate in community initiatives to improve the quality of life in surrounding areas.
Life Poortview offers the following support group sessions: 
Tuesdays: General Wellness Support Group
18h00 – 19h00 in the Conference Hall
Out patients only at no cost
Coordinator is Chris Holt 
Thursdays: Substance Dependency Support Group
18h00 – 19h00 in the Conference Hall
Out patients only at no cost
Coordinator is Edrich Smook 
All COVID-19 protocols will be adhered to at all sessions.
Adolescent Programme
Life Poortview has a dedicated Adolescent Programme that caters for the mental health needs of all adolescents between 12 and 18 years of age. Our treatment programme, facilitated by a multi-disciplinary team, provides specialised in-patient psychiatric assessment and rehabilitation to clinical and counselling psychologists, occupational therapists, professional nurses and social workers with a special interest and expertise in treating adolescent presenting with psychiatric conditions.
The approach to treatment is holistic, following a Bio-psycho-social intervention model in a structured environment. Our treatment goals broadly entail:
Containing the immediate crisis that led to the admission
Remediation of acute psychiatric symptoms and interrupt addictive and self-destructive behaviours such as self-injury, substance abuse and eating disorders, etc.
Creating a treatment plan based on a coherent diagnostic formulation
Assisting the adolescent and their families in developing and practicing effective coping, communication and emotion regulation skills and strategies
Creating a wellness plan that maps the road to recovery and helps the adolescent and their families to stay on track post discharge
Some of the core diagnosis we treat comprised, but not limited to:
Major depression
Substance abuse
General anxiety disorder
Bipolar disorder
Borderline personality disorder
Dysthymic disorder
Post-traumatic stress disorder
ADHD disorder
Eating disorder
Telephone

Email
Physical address

18 Malcolm Road, Poortview, Roodepoort, 1724

GPS

-26.090006 : 27.851574
Visiting hours
All visiting hours listed below have been reviewed according to current lockdown regulations. Please contact the hospital directly for updated information.
For visitation exceptions around neonatal ICU and paediatric wards contact the hospital directly or click here for more information.
Wednesday
Saturday, Sunday and public holidays
Core Medical Services
Psychiatrists
A general practitioner
Psychologists
Occupational therapists
Social workers
Supporting medical services
Physiotherapists
Dietician
Mental health nursing practitioners
Neurophysiology technologist
Doctors
Psychiatrist(s)

Dr Clementine Chawane

011 476 6410

Dr Jörgen Kahler

011 954 5150

Dr Alma Kalaba

011 795 1129

Dr Charne Magnus

011 958 0019

Dr Shonisani Raphalalani

011 958 0019

Dr Mary Dzimwasha

011 665 2241

Dr Meriam Matjila

011 954 6219

Dr Molokashe Molokomme

010 141 9377

Dr Jemina Sebei

087 087 2766

Dr Mvuyiso Talatala

011 933 5065

Psychologist(s)

Amanda Grobler
083 959 5098
Andries Combrinck
071 599 3546
Annemarike de Beer
011 662 1196
Christopher Holt
082 821 4716
Edrich Smook
082 341 8010
Elsabé de Vos
083 256 0179
Erica Basson
082 573 4636
Erica Erasmus
082 462 4967
Fantine Nel
011 763 6884
Hlezephi Sibisi
079 755 5203
Hlomani Mabanda
072 831 3570
Johan Roelofse
072 071 8741
Johanna Maphosa
084 602 1209
Koos du Toit
011 763 7851
Leepile Thebe
067 101 1523
Lida Tait
082 372 8057
Lize Wolfaardt
011 763 1562
Marelize Devantier
011 568 0352
Mariaan Odendaal
011 675 1524
Phil van den Bergh
082 890 4293
Pontso Francina Molaba
079 867 0562
Ronel Duif
011 622 1312
Ruvé Esterhuysen
082 333 6410
Sandra Erasmus
076 909 5645
Sasha Kotton
082 309 0794
Vuyo Themba
083 707 1576
Vuzi Mathshazi
011 410 7908
Contact us
Physical address

18 Malcolm Road
Poortview
Roodepoort
1724


GPS Coordinates :
South -26.08954 East 27.85167
(Decimal Degrees)

Postal address

P O Box 779
Ruimsig 1732

Hospital Manager

Nerine Adams 

Telephone

087 352 2100

After hours Telephone

066 140 9981

Email

lauren.vanzanten@lifehealthcare.co.za

Map