Life Isivivana Hospital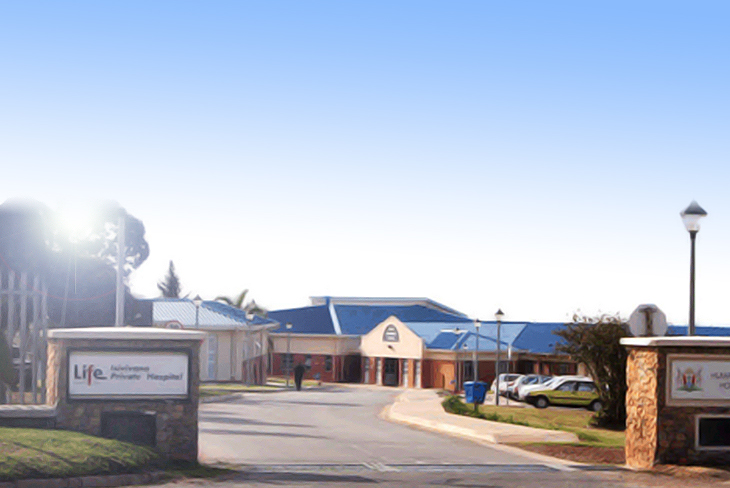 Overview 
'Isivivana' – loosely translated as a pile of stones left at the roadside by African travellers to bring good luck on a long journey – is an apt name for a hospital that is focused on first-class healthcare and a compassionate patient experience. Whether patients from Humansdorp in the Eastern Cape come to Life Isivivana Private Hospital for a routine procedure or more acute care, this 33-bed hospital offers patients high-quality care, professional service and focused compassion. Every day the specialists and employees subscribe to the Life Healthcare Group's core pillars of life, health and care, while individually striving to continually improve facilities, standards and technology. In addition, the hospital employees at all levels actively participate in community initiatives to improve the quality of life in surrounding areas.
Telephone

Email
Physical Address

Du Plessis Street, Humansdorp, 6300

GPS

-34.024483 : 24.781311
Hospital Manager

Pat Lubobo
Visiting Hours
For visitation exceptions around neonatal ICU and paediatric wards contact the hospital directly or click here for more information.
15h00 – 16h00
19h00 – 20h00
Medical services
Anaesthesiology
General practice
General surgery - limited
Gynaecology
Maxillo-facial & oral surgery
Gastro-enterology
Ophthalmology
Orthopaedic surgery - limited
Pathology
Physiotherapy
Pre-admissions clinic
Radiology
Contact us

Hospital Manager

Pat Lubobo

Physical address

Du Plessis Street
Humansdorp
6300

Postal address

PO Box 12051
Centrahil
Port Elizabeth
6006

Telephone

042 200 4250

Fax

042 295 1099

Email

Resa.Kruger@lifehealthcare.co.za

Map